ABOUT US
Y MULTI ENGINEERING & SERVICES SDN BHD is a 100% Bumiputra company. The company was incorporated in June, 2006 under The Companies Act 1965 with a target to venture Oil & Gas Industries by providing products and services through the Upstream and Downstream Oil & Gas value chain from construction, production, operations, maintenance, and eventually, decommissioning via varius units :-
Electrical & Mechanical

Instrumentation & Fabrication

Civil & Structure

General Trading / Hardware

Manpower & Equipment supply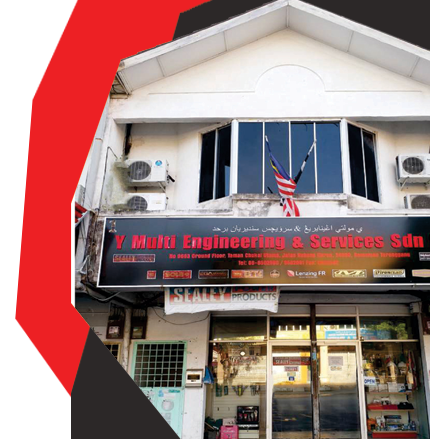 SAFETY, QUALITY & productivity our vision & Goal
Vision Statement
To become on one of the trusted and valuable Oil and Gas services company with the most efficient and innovative provider.
mission statement
To promote the highest standart of products and services to buyers and end users.

To achieve premium quality products at competitive price, with on time delivery and excellent customer service.

To ensure and retain the interest in serving the customers, market and the future service.

To broaden the business and area of coverage.
Org. Chart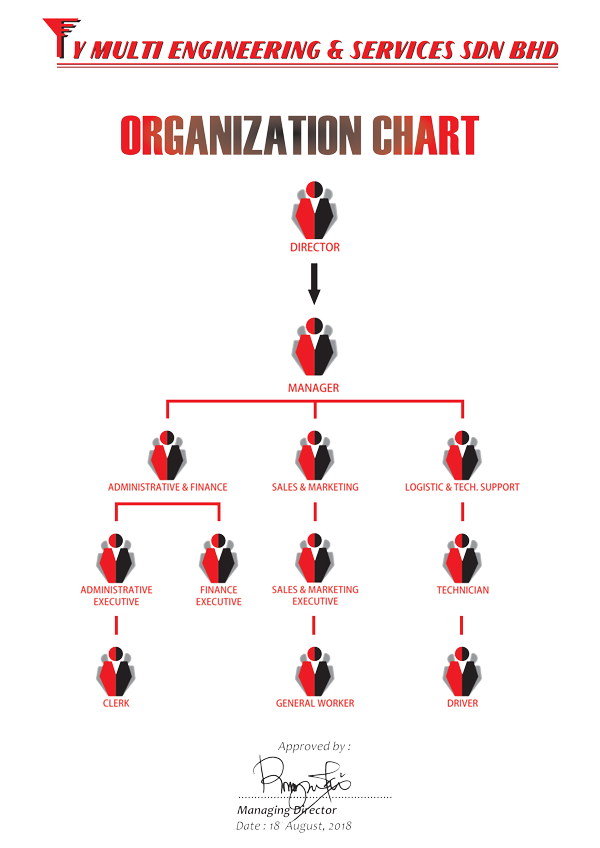 SCOPE for YM
Provision of Marketing, Sales and Services of Oil & Gas related equipment and supplies
Industries
Personal Protection

Industrial Cleaning

Oil & Gas Industries

Civil & Structure Industries

Mechanical & Electrical Industries
Customers Forms
SURUHANJAYA SYARIKAT MALAYSIA (SSM)
Y MULTI ENGINEERING & SERVICES SDN.BHD is register under the company act 1965 with Registration No. 736557-U since 06 JUNE 2006.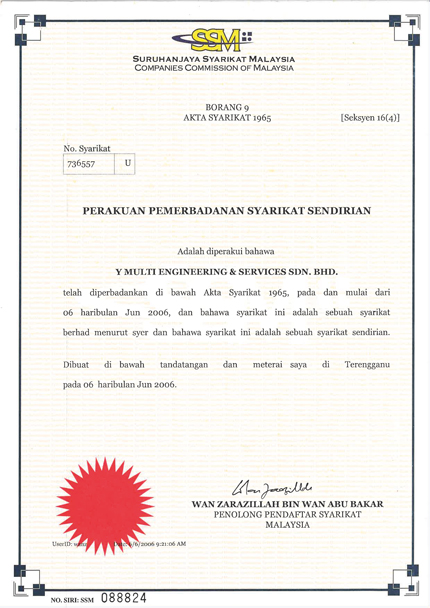 CIDB - PERAKUAN PENDAFTARAN
Y MULTI ENGINEERING & SERVICES SDN.BHD is register with CIDB Malaysia. Registration No. : 0120110624-TR134810 Gred/ Category/ Specific : G5/ B/ B04 Gred/ Category/ Specific : G5/ CE/ CE21 Expiry Date : 08 July 2019
KEMENTERIAN KEWANGAN MALAYSIA (KKM) - REGISTRATION
Y MULTI ENGINEERING & SERVICES SDN.BHD is register with MOF Malaysia. Cert No. : K Gred/ Category/ Specific : G5/ B/ B04 Gred/ Category/ Specific : G5/ CE/ CE21 Expiry Date : 08 July 2019
KEMENTERIAN KEWANGAN MALAYSIA (KKM) - BUMIPUTERA
Y MULTI ENGINEERING & SERVICES SDN.BHD is register with MOF Malaysia. Cert No. : K Gred/ Category/ Specific : G5/ B/ B04 Gred/ Category/ Specific : G5/ CE/ CE21 Expiry Date : 08 July 2019
PETRONAS
Y MULTI ENGINEERING & SERVICES SDN.BHD is register with PETRONAS Malaysia. Company No. : 736557-U Type of Company : LICENSE Expiry Date : 03 July 2022
Download Our License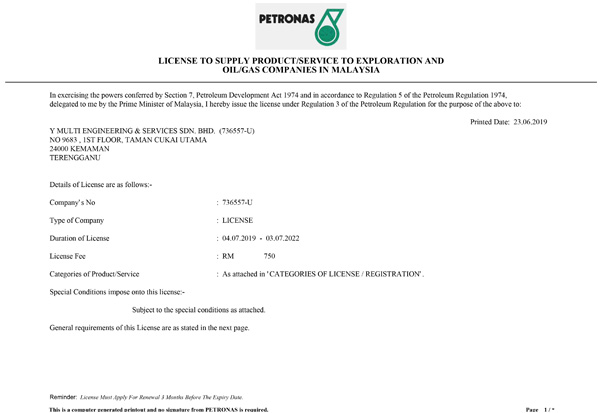 ISO 9001:2015
Y MULTI ENGINEERING & SERVICES SDN.BHD is Certified with ISO 9001:2015. Company No. : 736557-U Cert No. : 2030899 Cert Info. : METAL FABRICATION, INSTALLATION & MAINTENANCE FOR INDUSTRIAL Expiry Date : 02 Oct 2020
Download Our Cert